binance coin The futures market has come under intense pressure in the past few weeks as short bets increased. The BNB token is trading at $244 on Monday, lower than last week's high of $261. Overall, stocks have fallen more than 31% from their highs this year.
BNB loses momentum
many Cryptocurrency Shares surged after the Ripple v. SEC lawsuit ended last week. On the other hand, BNB coin remained in a narrow range. It surged to a high of $261.40 before wiping out most of the gains.
Binance Coin continues to come under pressure, mainly due to ongoing lawsuits. Securities and Exchange Commission (SEC). The SEC has accused Binance of committing more than a dozen crimes, including operating a broker-dealer in the United States without complying with the law.
It is too early to predict how the lawsuit will unfold and how long it will take. I spoke with a legal expert who said the SEC has a relatively solid lawsuit against Binance.
Another reason for the sluggish BNB price is recent reports that Binance recently laid off over 1,000 employees. Like other cryptocurrency companies, Binance has also experienced significant challenges due to the crypto winter.
Nonetheless, the company's financials may be improving as the cryptocurrency recovers. Binan has also seen inflows in the past few weeks. According to DeFi Llama, more than $2.9 billion has flowed in over the past 30 days. Its assets now exceed $64 billion.
Meanwhile, data shows that many players in the perpetual futures market are shorting BNB coin. Data compiled by CoinGlass shows that open interest is heavily weighted on the short side. One analyst told Coindesk in a note:
"Recent high-profile staff departures, conflicts related to BCH's withdrawal from Binance.US, and pending Justice Department lawsuits against Binance CEO Changpeng "CZ" Zhao have exacerbated sentiment."
BNB price prediction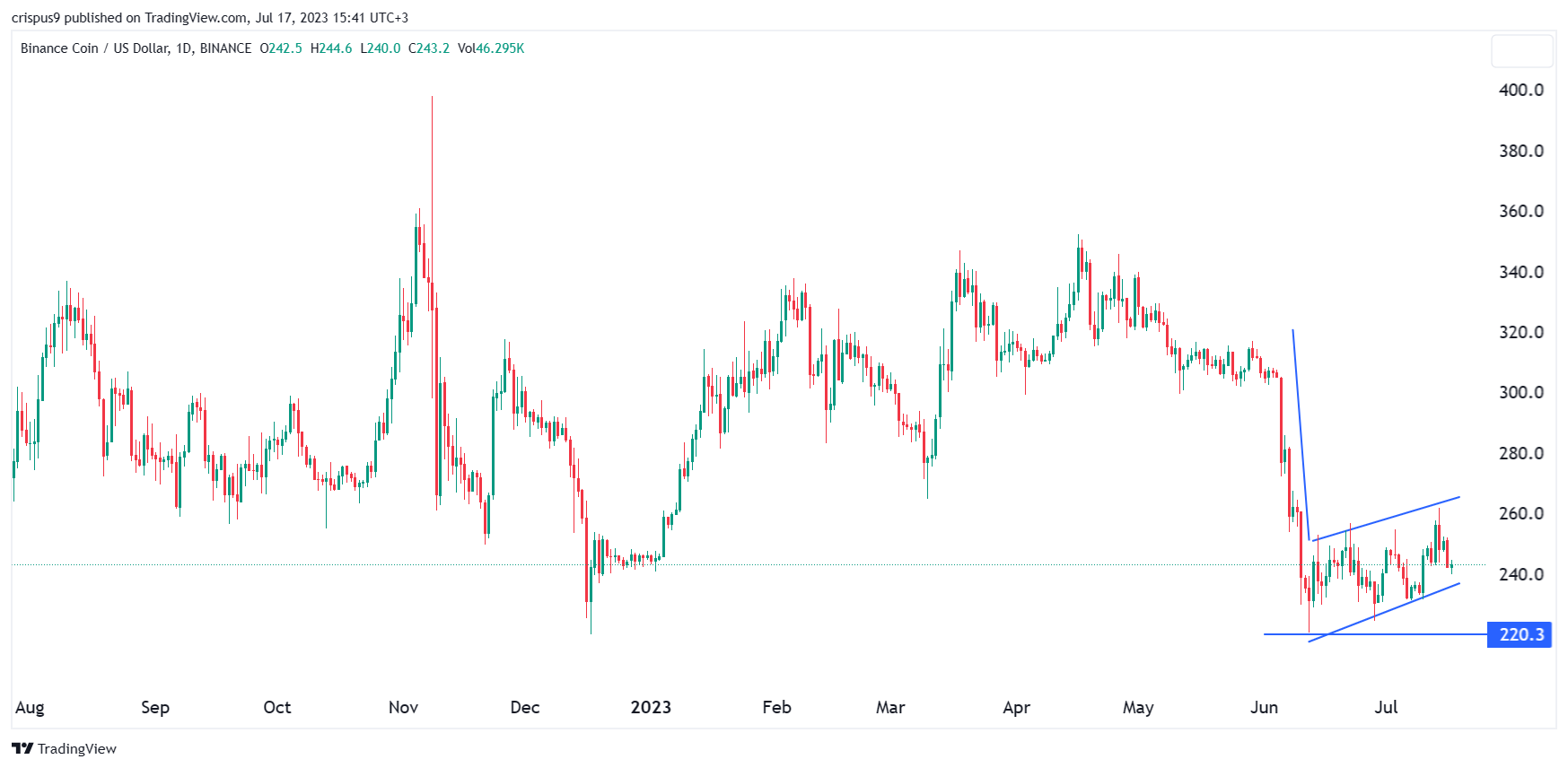 The daily chart shows that the BNB cryptocurrency price has been on a strong downward trend over the past few months. Most recently, the coin has formed what looks like a bearish flag pattern. In price movement analysis, this pattern is usually a bearish sign.
BNB Coin is trading below the 50-day and 25-day moving averages. Therefore, the coin may have a bearish breakout in the short term due to the falling flag pattern. If so, the next level to watch will be $220.
How to buy binance coins
Etro
eToro offers a wide range of cryptocurrencies such as Bitcoin, XRP, in addition to crypto/fiat and crypto/cryptocurrency pairs. eToro users can connect with others, learn from others, copy, and be copied from others.
Buy BNB on eToro now

Bitovabo
The Bitvavo platform was launched in 2018 with the aim of bridging the gap between traditional currencies and digital assets. Bitvavo makes digital assets accessible to everyone by offering transparent fees, a wide range of assets, and an easy-to-use platform.
Buy BNB on Bitvavo now